Our consulting services
We provide a wide range of support from start-ups to reformation.
Please look forward to our attentive and precise consulting services that suit your needs.
We lead you to the best solutions for the various problems you face in
restaurant management.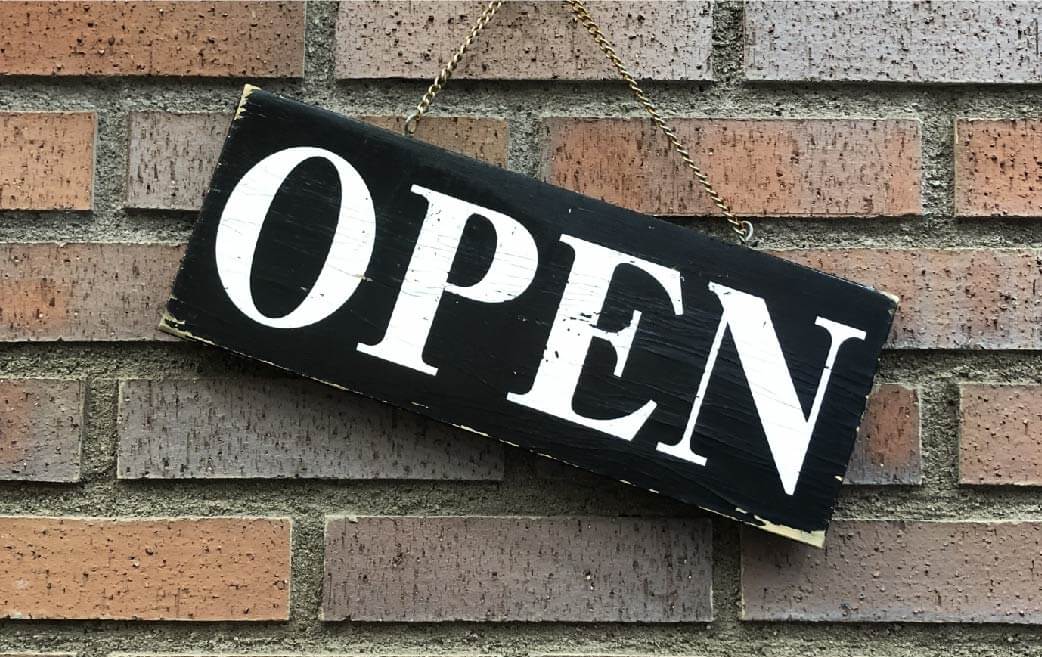 Opening support
We provide total support for opening your restaurant/bar from property selection, referral of liquor stores and other suppliers, purchase of goods such as tableware to recruitment and training of staff with our years of experience unique know-how.
▢ Location research (accompanying)
The location is a vital part of your restaurant/bar business. We accompany you to ascertain the perfect location.
▢ Advising on signboard and entrance
Your signboard can be regarded as the face of your restaurant/bar. According to your needs, we suggest where to set and how big/outstanding your signboard should be.
▢ Advising on layout
We advice on the floor plan of your restaurant/bar according to your target and area characteristic. We offer our unique know-how in designing efficient lines for seating and kitchen layout, effective layout for small or large restaurant/bar.
▢ Advising on display
Your interior design and display can change the atmosphere of your restaurant/bar significantly. We suggest you the ways how to differentiate your restaurant/bar from others to gain competitive advantage.
▢Advising on other opening-related matters
You need to perform various essential tasks for opening your restaurant/bar. We provide advice on each task as well as prioritizing your tasks and schedule management. We provide support for relieving your anxiety in opening your business with less difficulties.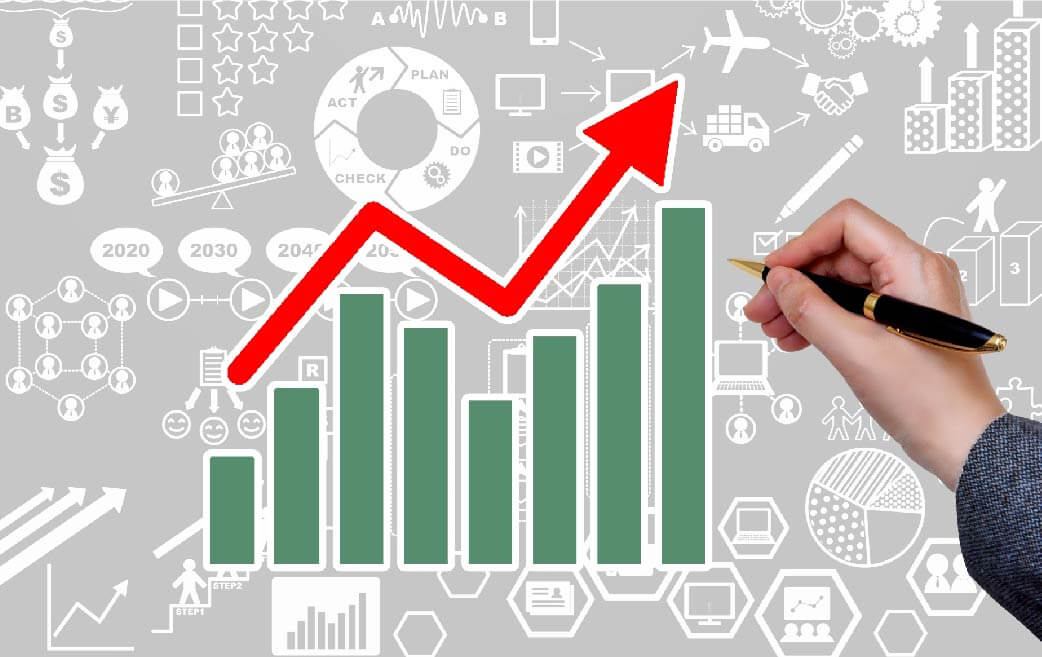 Sales promotion support
We analyze your current situation in terms of attracting customers from various perspectives, and suggest effective sales promotion measures how to "attract new customers," "motivate customers to return," and "keep repeat/regular customers".
▢Advising on selection of sales promotion methods
The effectiveness of sales promotion varies significantly depending on your location and type of business. We provide advice the best promotion methods such as print media, website and flyers based on your location and the type of your business.
▢Advising on sales promotion via SNS and online reviews
Online reviews have a tremendous effect on your business. We provide wide range of advice on word-of-mouth type of promotion, from basic to advanced. We provide support for low-cost sales promotion activities by providing tips on how to create a virtuous cycle of customers bringing in more customers and risk management measures.
▢Advisory of other sles promotions
We provide advice on any type of sales promotions. We work with you to find the best effective method at the lowest cost.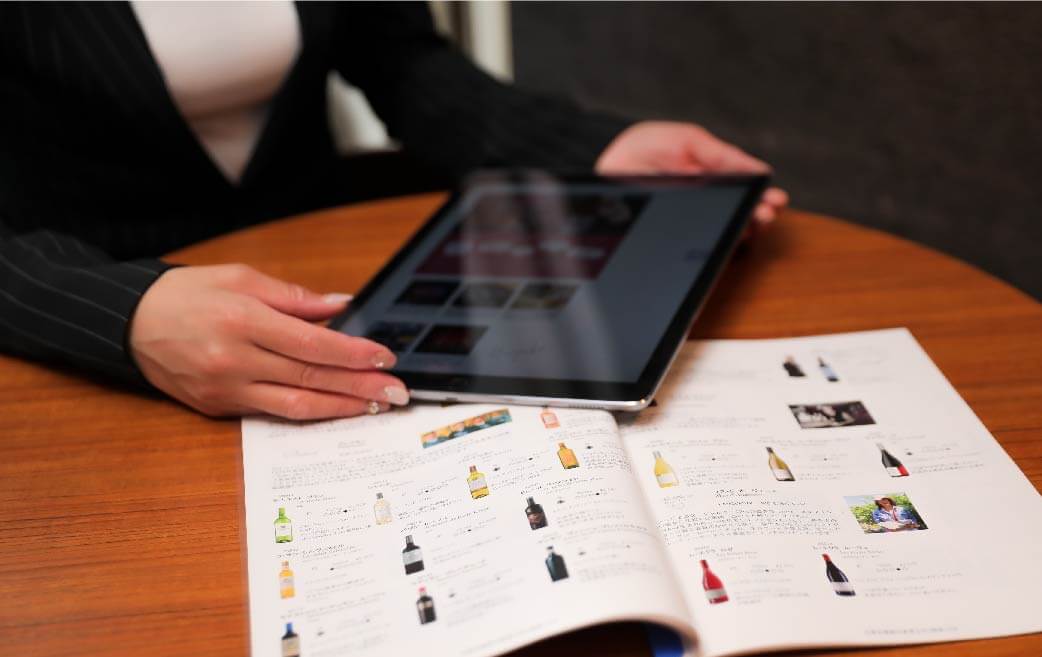 Menu development
"Looks good" and "Tastes good" are not good enough for your menu. We provide comprehensive support, including menu development for your targeted customers and your restaurant/bar environment, as well as profit-generating structures and pricing strategies.
▢Advisory of menu development
It's better to have a menu that customers want to come back to your restaurant/bar again. You can make the best menu with a little ingenuity and idea to please your customers. We are also known for our menu development advice based on existing menus.
▢Referring suppliers suitable for your restaurant/bar
You can clearly differentiate your restaurant/bar from others with your own unique drinks and foods. We provide support for creating a core group of fans of your restaurant/bar with many loyal and repeat customers.
▢Suggesting cost setup/pricing
Appropriate pricing to generate profits is important. We offer consultations on menu prices and cost ratios, taking into account the location, customer base, type of your business and price per customer.
▢Expanding to other business
Basic staff training (improving customer service skills of manager and staff)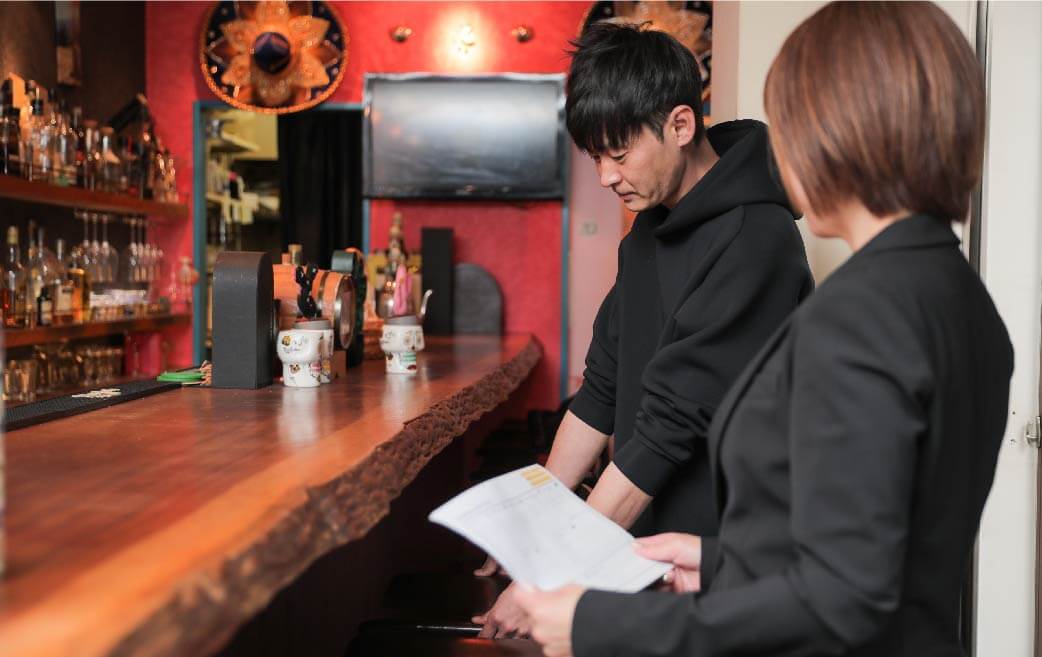 Customer service training
We visit and observe your restaurant/bar, interview your staff and help you find and solve your problems with our years of experience know-how. We can also handle communicating with your foreign staff.
▢Visiting and observing your restaurant/bar
Hospitality is the most important factor for restaurant/bar business. We visit your restaurant/bar and observe your business from a third party's point of view to find problems and how to improve.
▢Basic staff training
(improving customer service skills of manager and staff)
We provide basic customer service in this course. Although this is a basic course, we don't follow the "schoolbook", but thoroughly instructs your staff to acquire the ability to perform their flexible customer service on a case-by-case.
▢Immediately effective staff training (how to attract repeat customers )
We instruct your staff how to talk to your customers to create fans of your restaurant/bar, which your staff can start immediately. We will teach you how to talk to customers with pinpoint accuracy and applicability according to the type of business, location and customer base.
▢Advanced staff training
(how to create high-value-added customer experiences)
Restaurant/bar business is in a period of major change with streamlining and using IT system, but person-to-person contact can greatly improve the value of "customer experience" at your restaurant/bar. We can help you to create the one and only restaurant/bar that cannot be imitated by others by instructing your staff how to perform a higher level of customer service.
▢Staff interview and individualized coaching
Individual interviews and coaching with your staff are also available upon request. We provide guidance how to motivate and encourage your staff to change their mindset for improving the quality of their customer service in a successful restaurant/bar. (* Estimates are provided based on the training contents and the number of participants)
▢Consultation on other customer service/entertaining-related issues in general
We provide consultation on customer service, how to entertain customers and staff training. We prove the best possible solutions to improve the level of your customer service according to your problems and issues.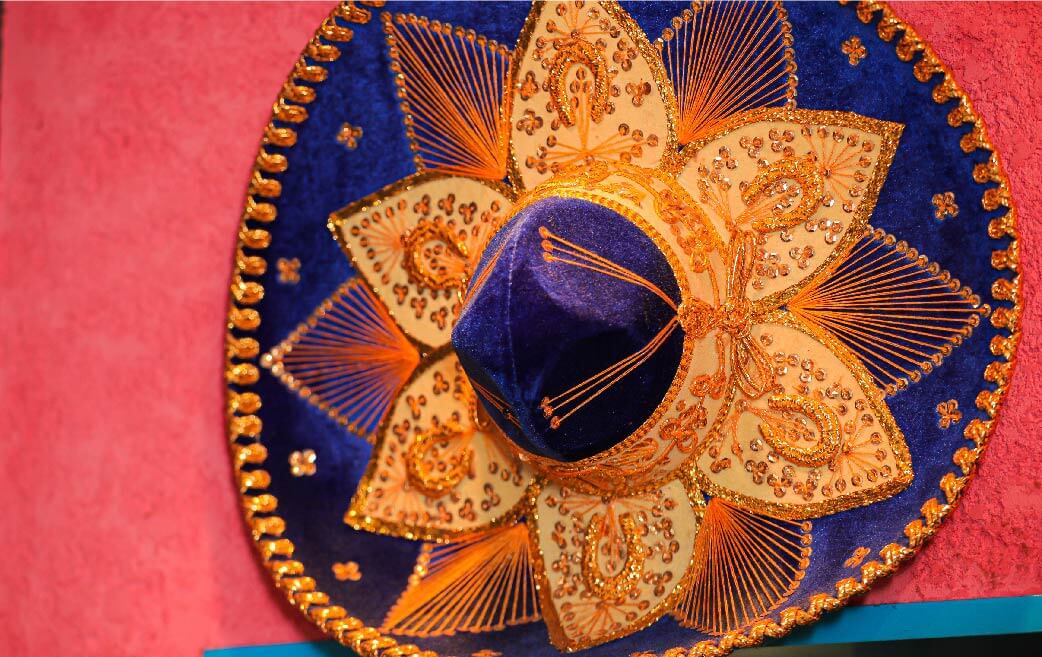 About Mexico and Events
We can help you to purchase rare alcoholic bottles and foods from Mexico through our own routes and wide range of connections. Please feel free to ask us about event planning and other business activities.
▢Supporting your participation in makers events
With our own network, we can support you setting up and participating in events projected by makers. We can refer you to events which are worth participating depending on your business type.
▢Referring unique ingredients
We can refer unique ingredients that are not available in other restaurants/bars. You can prepare your special menu and seasonal events with such unique ingredients to attract your customers.
▢Referring rare liquors
We have wide range of connections and extensive routes especially in Mexico, and refer you to purchasing routes offering a variety of rare alcoholic beverages including tequila. We provide support for creating your highly specialized restaurant/bar.
▢Consultation on other Mexico-related business
We have many network of contacts in Mexico, and can obtain a variety of information. In addition to attending and coordinating travel to Mexico, we can help you organize and manage Mexico-related events, and provide any other consultation regarding Mexico.
Cocktail events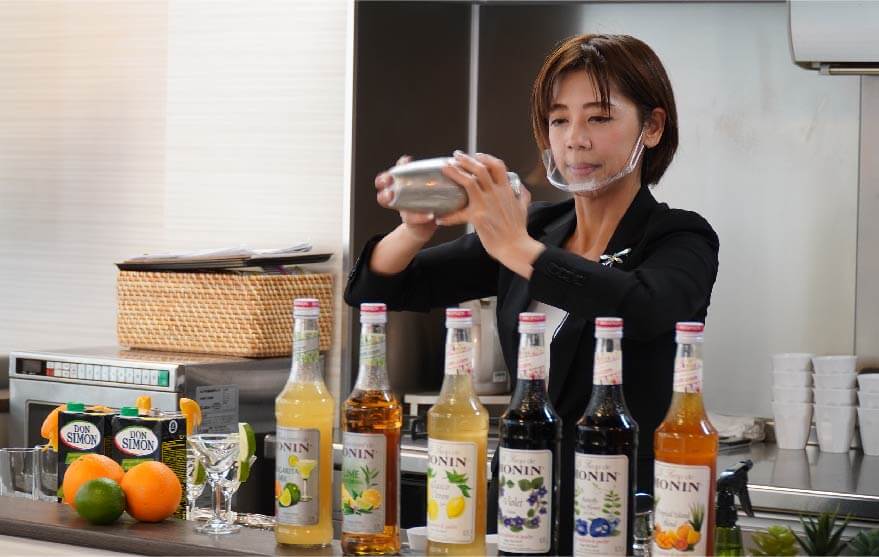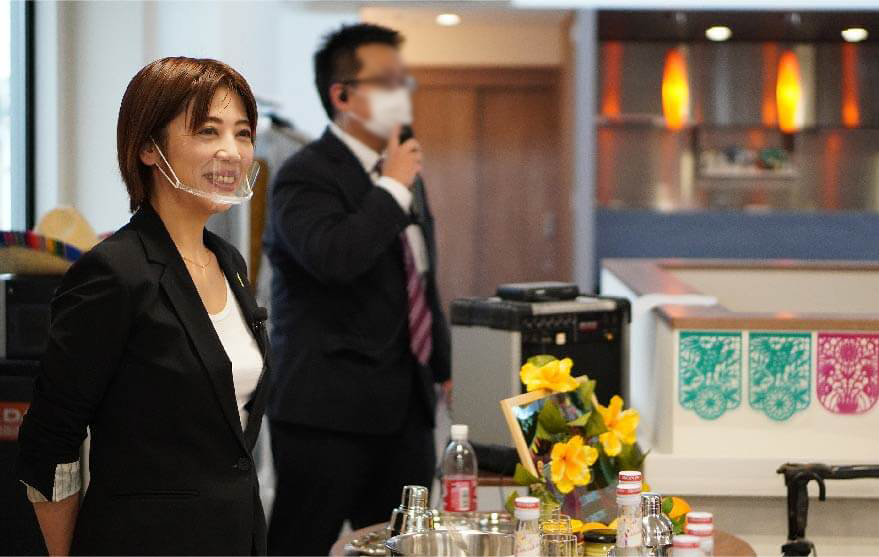 Mexico-related events at elderly care facilities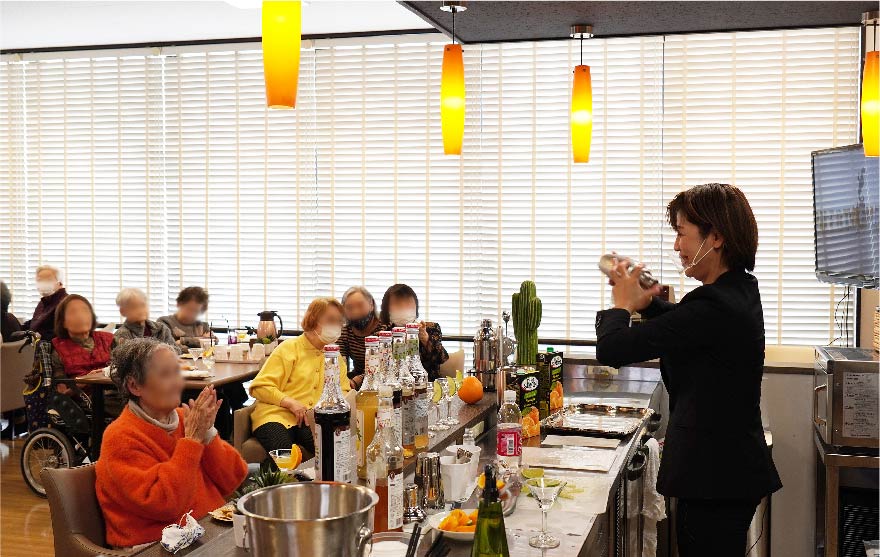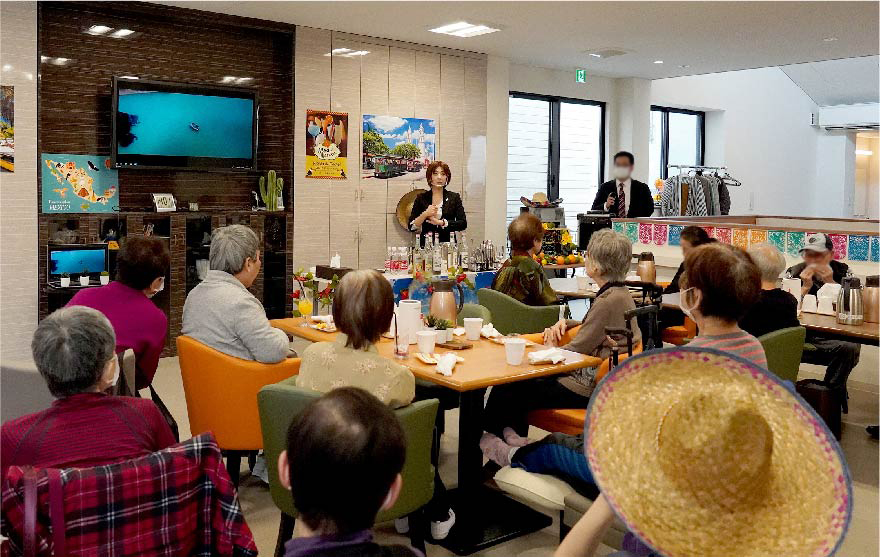 Price list
Trial consulting
2 hours per session
※This trial can also be used as a one-time consulting service
Regular consulting contract
Initial contract
Down payment
(up to 10 seats)
¥100,000(tax excluded)
Down payment
(up to 20 seats)
¥150,000(tax excluded)
Down payment
(up to 30 seats)
¥200,000(tax excluded)
Down payment
(up-to 40 seats)
¥250,000(tax excluded)
Payment for the first month (You can cancel the contract at any time)
One session per month
¥50,000(tax excluded)
Two sessions per month
¥100,000(tax excluded)
Consultation on opening a new restaurant/bar
We provide an estimate of our consultation on opening your restaurant/bar depending on the scale and contents.